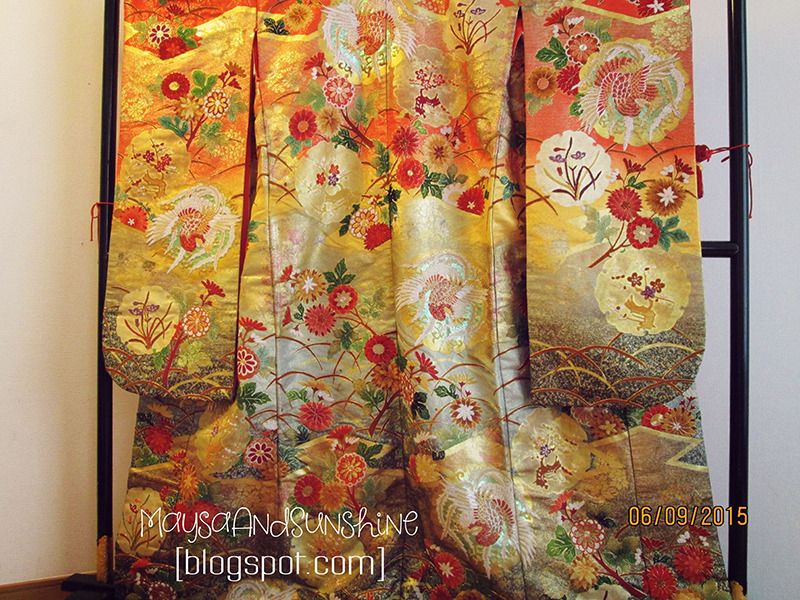 Wearing a Kimono had always been one of the things on my wish list. So when would be the best time to wear one? When you are in the land of the rising sun where the Kimono was born. I jumped with joy when I found out about the opportunity to wear this traditional, beautiful and elegant costume.

If you enter "Kimono rentals in Tokyo", you may be overwhelmed with options. I had no clue which one to select but finally decided o contact a popular place in Asakusa based on the good reviews. The prices seemed reasonable ($35-$40) and it was not far from Sensoji temple. so I typed up my email with excitement and asked a few questions. It took the shop staff a few days to reply to my email and when they replied, they didn't even answer all of my inquiries. I had more questions so I emailed them back, they never replied since then. So that was not an impressive start.

I almost gave up and got frustrated as I was unable to find any reviews of other shops (at least in English anyway). Just a few weeks prior to the trip, I gave it another try and this time I came across Kimono-Sakaeya which I thought it looked pretty promising. After browsing and reading information on the website, I felt this place suited my need and more. However, I couldn't find any reviews about this shop except one review from one lady years ago. I didn't know what to expect but the owner's prompt response and friendliness really made a huge difference in my decision making. I felt like if I chose another place near Sensoji temple, I would probably feel rush since they always had tons of customers and never made an effort to even email me back.

The Sakaeya shop owner, Kahori-san was super responsive, could speak good English and made me feel at ease just by communicating through emails. The price was higher than what I originally wanted to pay (we chose "Rental Plan: Visit Meiji Shrine" and it costed 9,000 yen per person. Total cost for 3 of us = $223) but considering the fact that this plan also included a short version of a Japanese tea ceremony at the end and offered a tour. I made a decision to book with Kahori-San.
During that time, we emailed back and forth, Kahori-San never failed to reply in a timely manner and you could tell she paid attention to details. She took the time to answer, was very helpful and accommodating. Since it was the beginning of summer time in Japan (June), I was offered two options: Kimono or Yukata (Kimono is made from silk, more formal and worn in the winter versus Yukata is made from lighter fabric like cotton and is worn in the summer). I wanted to wait to see how the weather was like when we arrived so no decision was made. Kahori suggested a Yukata for a little one so she would be more comfortable while walking. As for my husband, the selection for guys was not big (he was not picky anyway) so that was easy. Before the trip, Kahori emailed me a picture map that was so easy to follow. It literally showed you what street/exit/shop/ building to look for. You wouldn't get lost I guarantee. Her place was not difficult to find at all. And the best part, it is adjacent to the Marion Crepe. How awesome is that???!!!

Finally time had arrived and we were in Tokyo. Our appointment was 10:30 a.m. Our hotel was located in Shiodome area. It was quite nerve-racking since we would use the train for the 1st time and didn't want to be late. We actually got to her place 10 minutes early. Kahori-san was so friendly in person we immediately felt comfortable. She got started with our little lady by offering her options of cute Yukatas to choose from. I kind of liked the selections she had available. Not too overwhelming. Simple but clean and elegant. We got to pick our Yukatas and obi. We didnt feel rushed at all which was great. It took about 15 mins to dress her up. Next was my husband's turn. It took about 10 mins to dress him up and finally my turn which took the longest (probably 20+ mins). There were a few hair pieces we could use (no extra charge) and handbags that matched the outfits (big enough to put your wallet and phone). Before leaving her apartment, we were given a short lesson on "how to pose and look elegant in traditional Japanese costumes".

Per the description "We will provide a tea ceremony & help with your photo shoot", I thought they would use our camera and help take photos but what I didn't know was that a tour guide came with the package. That was unexpected and a pleasant surprise. Our tour guide was not a professional photographer but she did a good job taking photos. She was very nice and friendly as well. Somehow it felt strange when people stare and take photos of us along the way from Harajuku to Meiji Shrine. It was like celebrity moment...lol. It took about 10-15 mins by foot to the Meiji Shrine and luckily the weather turned out to be so pleasant and comfortable. We spent approximately 45 mins walking and taking photos which was fun. I highly recommend Meiji Shrine if you like nature as the area is very lush green, serene and peaceful. It didn't feel like you were in busy city like Tokyo at all.

When we returned to Kahori-san's place, she had prepared the water for the tea ceremony. We sat and watched how she made fresh cup of hot green tea one by one. The whole experience was worth seeing (the full version of Japanese Tea Ceremony usually lasts 4 hours but ours was a short version of it), it felt relaxed and calm. We were offered some sort of sweet candies to eat before drinking green tea. To our amazement, we watched our six year old drinking an entire cup of green tea without a fuss. It was her 1st time having green tea indeed. I asked her later if it tasted good, she said no (she didn't want to be impolite so she drank all). That green tea was really good and not too overpowering.
One thing I was concerned about renting something like this was the cleanliness of the rental pieces. From what I could tell, there was no odor to the Yukatas and they looked very cleaned. I am not sure about other places though. Our little one got to take her Yukata home with her as well as a souvenir. Befirecwe left, a tour guide and Kahori transferred all the photos to a CD and gave to us.

Overall experience: All three of us had an amazing time! It was an awesome start to kick off our trip. If we go back I want to reserve with Kahori again but perhaps go to Togo Shrine or a Japanese garden this time. I highly recommend Kimono-Sakaeya.

Tips: you probably should leave your dslr at the hotel or with Kahori-san (we left ours with her) and bring a small compact camera or your phone in case you want to take specific photos. Do not bring too many belongings as they will get in the way with photo taking. Wearing a Kimono and carrying a backpack may look quite awkward. You can fit a wallet and perhaps a phone in a cute little purse that Kahori-san provides as an accessory. A small bottle of water may come in handy in case you get thirsty on a hot day.