Bluebonnet is the state flower of Texas. They can be found in the wild around April (when they are in full bloom) and the common colors are blue with tiny white dot in the middle. They do smell great too. Do you know that it is illegal to pick or destroy them? (although some people do not pay attention and unfortunately trample them while trying to take pictures...very sad).
This weekend our family was on the search for Bluebonnet sighting in two little towns om tje north part of Houston. The two little town are Brenham and Navasota which are approximately 1.30 - 2 hour drive from where we live. In the past 8 years that I lived here, never once had a desire to venture out to witness the beauty of nature and or really appreciated what mother nature can create. Until now that I am getting older, I seek simple joys in life and learn to appreciate small little things more and more each day. (Money can't buy all the happiness in the world but it does help us to buy gas to get there..ha.).
We left home Friday afternoon and planned to spend a night somewhere so that we could wake up early for photos. Our original plan was to find a Bed and Breakfast but we were late in the game and it seemed every place we called was booked up so we chose to stay at La Quinta in Brenham. There was a lovely and large bluebonnet field in the back of the hotel but that was just a teaser. The next morning we headed over to another small town (Navasota) which is about 20 minute way. There was an even larger field (probably 20 - 30 acres) of bluebonnet on HWY 6. OMG, our jaws dropped at the beauty of this field. It was like a dream. Photos just don't do the justice. It was quite a sight and scene, and totally worth the drive. Big thanks to information and updates from Texas Bluebonnet Sighting on Facebook.
Tips: Watch your step and don't tremple on them so others can enjoy them too.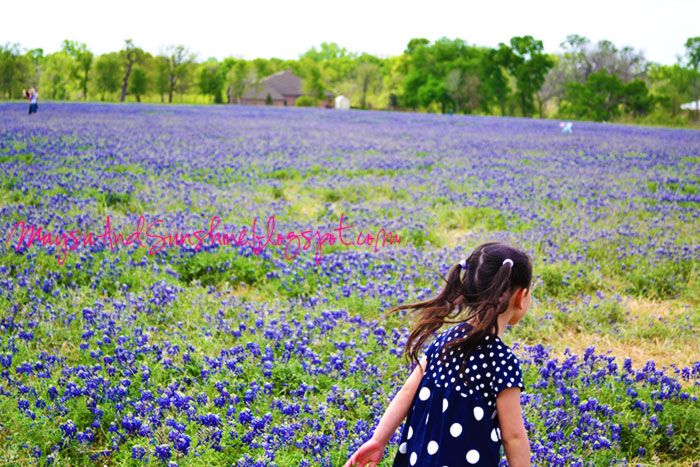 {The orange flowers are native to the west of America, they are called Indian Paintbrush}