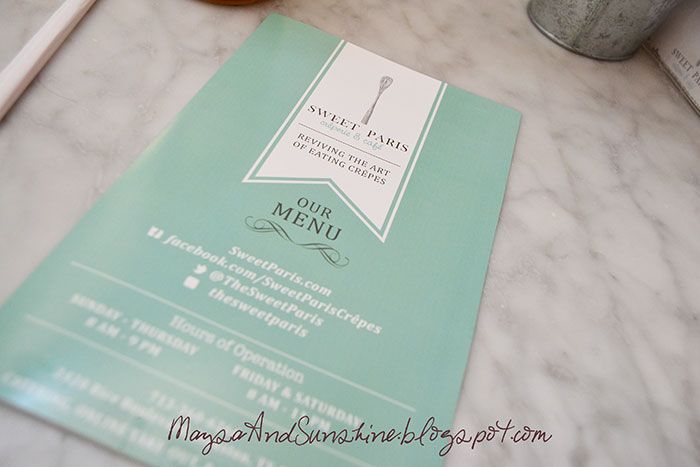 *Warning: this post may cause major drooling if your stomach is empty.*
In the past months, we continued to sample a few new restaurants. One of the best places we recently discovered was introduced to us by LivingSocial (Gotta love Groupon and LivingSocial sites!). The name of the place alone sounded tempting "Sweet Paris Creperie". It made me wonder if it would taste any like crepes in Paris (given that I have never been to Paris before). I was completely sold by the deal since I had never tried any crepe place in Houston before. The deal included two savory crepes and two sweet crepes for just $20 (regular price $40). So far we have gone back twice already which pretty much says it is sooooo yummy!!! Adore the Parisian/chic decoration and colors.
We were glad the deal included savory and sweet because we wanted to try them all!! Totally willing to be a pig for one day (but one crepe is very filling really.) We ordered Chicken Carbonara / Chicken Enchiladas / Apple Cinnamon Crème Brulee & last but not least S'Mores. Oh my goodness, the savory crepes were out of this world yummy. The carbonara sauce was creamy/rich and full of flavor. My husband loved his Chicken Enchiladas. By the time we stuffed ourselves silly with savory crepes, we were pretty full yet had to try the sweet crepes. They were decadent and delicious. Thumbs up! Bon Appetit!! If you ever visit Houston and are in a mood for crepes, be sure to give this place a try.