Every single one of us blogs for a different reason: to improve writing skills, to talk about their passion/obsession, to document their lives, to share photography, to reduce stress from work/personal life, to find a new hobby, to connect with other people who share the same interest and etc. As I wrote this post, I paused a minute and thought about an initial reason why I started blogging.

Almost 4 years ago on 6/19/2010, I first set my footsteps in Blogsphere in an attempt to "find myself again". As silly as it may sound, how could one forget about herself? I almost did after entering the wonder world of motherhood. I felt my world turned upside down when I became the first time mother in 2009. Every day of my life was not the same since then. It was much sweeter yet bitter and difficult too. I set very high expectations on myself the minutes I found out I was pregnant that I must be the best mother/wife I could be. Silly me I set myself up for stresses and frustrations.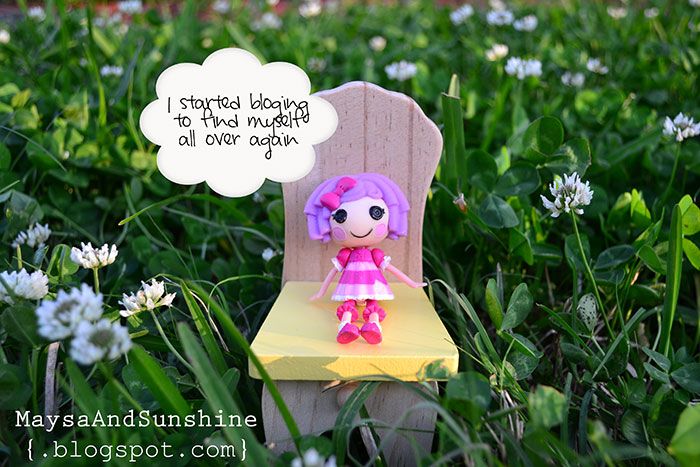 Before I started blogging I had no clue this little space on the internet even existed. Everyday my life was evolved around a baby, a long list of chores, a full time job, a husband who had erratic work schedules, a dirty house and more. I didn't remember watching TV that much or surfing an Internet. Instead, i was scrubbing a toilet at night after a long day at work and a baby was in her crib (and the husband at work). I rarely went shopping anymore. I completely stopped playing with makeup too. If i showed you a picture of myself from those days, you may just assume i have some plastic surgeries done. Boy i looked horrible from head to toe...no kidding. Despite my husband kept telling me I should allow myself to a "me" time, I always refused. How could I ignore a dirty house to go out shopping??? (I was a perfectionist back then my house was always in a clean and organized state). No luxurious moments like that for me I must keep the house clean, take care of a baby and cook homemade meals. Those were my missions to become a dedicated mother.

I lived like that for 15 months straight when I mentally had enough of that dedicated/mother of the year lifestyle. I went through many bouts of emotional meltdown day in day out. I cried and whined almost on a daily basis. I was not happy. I couldn't find a balance. Those never ending chores. I had less time in a day to do everything. I could no longer maintain my sanity. I got upset easily. More alarmingly, I didn't even remember all the fun things I used to do prior to becoming a mother. I honestly didn't.

One day I stumbled upon a blog of a girl who blogged about makeup. As I started reading her blog, it reminded me of something I used to do like applying makeup and beautifying myself. It was like an eye opening. I discovered a small history of myself! This was something I used to do but decided not to continue in an mission to become a perfect mom but you know what? It was a bad idea. It was not a perfect mom who made a happy family.

It took a happy mom to raise a happy baby and make a happy family! Obviously I was not that mom. I was a mom who constantly thought about chores and how to get them done. I was a mom who was stressed herself to death. I was overtired, cranky and moody. For what? What good come out of all this? I may die from developing a heart disease before someone crowns me with the "Best Mother of The Year" award. Something MUST change immediately.

I started using blog as a tool to help me find things that I enjoyed doing prior to become a mother as well as discovering new and exciting things. Before that I always thought I never had the time but a reality is I had the time but didn't make some time for myself.

I must say blogging has helped me a LOT. Not to mention the amazing blogger friends who have continued to connect and stay with me through this journey. These blogger friends make a huge difference in my life everyday (you know who you are - thank you and big hug).

Blogging also helps me want to improve my look. The way I apply my makeup, the way I learn to experiment with style through mistakes and much more.

My love for photography has blossomed from blogging too. Never once thought I would love taking photos this much.

I also learn to manage my time differently now. I too realize it is important to lower one's expectations in a certain situations. It is okay to not always have an over the top clean & organized house. It is okay if kitchen sinks are full with dirty dishes on occasion. It is okay to not clean the bathroom but sit and relax. It is okay to have some time to myself. It really is okay because this is the real life. Nothing is perfect. There will always be challenges.

Do you remember the real reason that got you started?