Warning: Text/info heavy post
Disney World is often referred to "the happiest place on earth". I said "really????, to me it felt more like being at a boot camp". If you wonder why, continue reading.
This Disney World trip was my 2nd time (1st time two years ago I went with the husband) but it was the 1st visit for my daughter. Of course traveling as a couple was MUCH easier than with a child.
When I was pregnant I knew that eventually we would take our little one there but the big question was "what is the appropriate age to take a child?". When I traveled there with my husband just the two of us, we couldn't bring ourselves to understand as to why some parents brought along their babies (less than 12 months old). It appeared more like a torture to both babies and parents to be under the heat, in a long wait line and so on. To me personally, it should be at an age which a child:
1) Understands what Disney is about
2) Knows the characters and is eager to see them
3) can tolerate a long day full of activities / heat / rain / long wait line
4) most importantly will remember this once in a lifetime experience. It is VERY expensive to go there and it may be once a lifetime deal.
So we picked this year when she turned 5.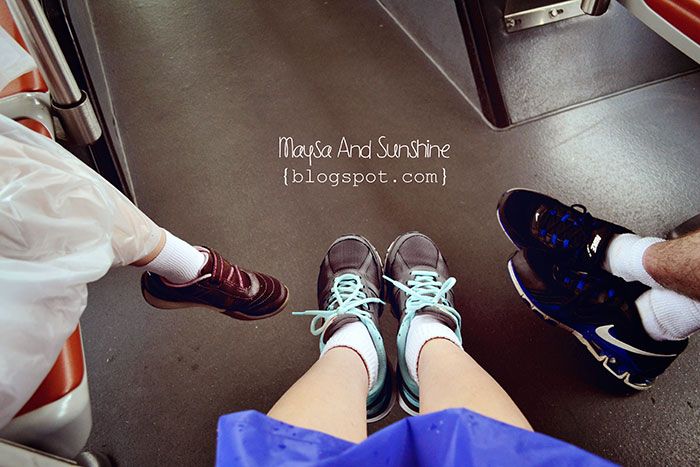 Then the next question... What time of the year to go?
Disney World is busy ALL YEAR ROUND, more packed during the summer months.
We went at the beginning of May and were in awe as how busy it was!!!!! You had to wait on EVERYTHING from food to rides (some popular indoor kiddie ride like Princess Fairytale Halls had 270 minutes wait time, you guys!!!!). So I guess go whenever and good luck...haha.
This was truly a family vacation of 6 (grandma/grandpa/auntie/my husband/my little one and me). We spent 4 days and 3 nights at one of the Disney Resorts. The whole trip costed an arm and a leg, we could literally buy round trip plane tickets to Europe or Asia for 5-6 people. It surely was a once in a lifetime experience so we made the most out of it to get the money worth.
So why I previously said it was like a boot camp? My legs and feet literally were about to detach from a body from constant walking. The weather was so extreme we experienced all four seasons in four days.
5/1/14:
Woke up at 5 am in order to catch a flight to Florida. When we arrived in FL, it was sunny, humid and super HOT. As soon as we dropped our suitcases off at the hotel we went straight to the Magic Kingdom around 1 pm. Had a dinner scheduled at Cinderella's Castle at 9:30 pm. Waited for a bus to take us back to the hotel. We didn't come back to the hotel until 11:30 pm. We all crashed as soon as our heads hit the pillows.
5/2/14:
We all woke up around 7:30 am. Oh my god I was sooooooo exhausted and achy from hip to the tip of my toes!!!! We ate breakfast and planned to spend all day at the Magic Kingdom to finish the rest of the rides and had lunch at the Crystal Palace where a little one could take pictures with Winnie The Pooh gang (good buffet here, highly recommend).
It literally rained ALL DAY LONG (we brought ponchos). It was a mix of light and heavy rain but we kept going. No one gave up mainly because it was so darn expensive. We decided to come back to the hotel around 8:30 pm.
5/3/14:
Woke up around 8 am, today we planned to hit Animal Kingdom and Hollywood Disney Studio (already went to Epcot in a previous trip).
It rained half day then the temperature dropped to 65 F!!!!!!!
A little one met Mickey, Minnie, Chip, Dale, Donald Duck, Goofy and the monkey from the Lion King (can't remember the name). We came back to the hotel around 8:30 pm again.
5/4/14:
Last day we tried to take it easy. It has been such exhausting three days of non stop activities and extreme weather changes I was ready to csll it quit...haha. We hung out around the resort, took photos and bought some souvenirs.
If you plan a family vacation:
1) Be prepared for heat and rain. Pack sunscreen/hat/umbrella/ponchos (or buy ponchos there, not too expensive). Pack fever medicine/thermometer too.
2) Wear COMFORTABLE shoes that provide good support for your feet. You will thank yourself. Lightweight clothes are the MUST. Pack jacket if you go in the winter.
3) There are strollers for rentals at all the parks (cost like $11 something per day) in case you don't feel like lugging around your own.
4) Pack a set of clothes for change, their fave stuffed animal, bandages, Neosporin, hand sanitizer, paper towels/tissue, small snacks and water for a little one in your backpack (the distance between resort and park is approximately 20 mins + wait time for a bus).
5) Plan in advance as to what popular rides you want so you may get fast pass to avoid long line. If you plan to spend longer than one day, purchasing a package is a way to go. It includes bus rides, meal plan, hotel stay, entrance fee, fast pass and more.
6) Keep your sanity. Hey traveling with small children can be frustrating and stressful when they get cranky and overtired. I almost had a meltdown myself, really.
Overall it was a fun yet exhausting trip. I am NOT ready to go back anytime soon.
Marketing wise, Disney is very smart in cultivating the idea that "everyone should at least be there once in a lifetime" and they are successful at that attempt. The image you see in commercial is different in reality. You see characters walking and visiting with everyone in front of the iconic Cinderella's Castle but it is not done that way in real life. All the characters and princesses are inside their designated areas and you will have to wait or schedule in advance to see them (I could understand they have to do it this way due to high volume of visitors). They sure are celebrities!!
Next post will be pictures heavy :)