This post is a request from my sweet blogger friend
Kim of A Very Sweet
blog. I previoulsy posted this recipe on my old blog which I closed down last year.
**********************************
The burst of delicious flavors from sweet and juicy peaches and the cripness of the fresh baked pie crust plus the warm and gooey filling....it is a perfect marriage in your mouth that you don't want to miss.
This is my first attempt at making peach pie and let me tell you - it is as easy as 1-2-3. All you have to do is peel and slice peaches, use store bought pie crusts, mix the flour and sugar mixture, sprinkle with some butter, bake and voila~~~ No kidding, it is THAT easy. If you are like me, who easily get discouraged when seeing more than 5 ingredients on any recipe - this recipe is for you.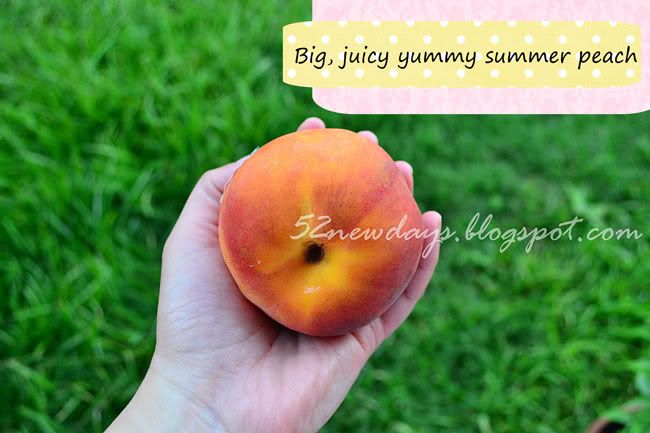 Peach Pie Recipe
[adapted from AllRecipe.com]
> 10 fresh peaches, pitted and sliced
(I only used 6, peaches I bought were huge)
> 1/3 cup all-purpose flour
> 1 cup of white sugar
(per other commentors'recommendation, use 1/2 cup white + 1/2 cup brown sugar but I'll cut down to 2/3 cut of brown next time since it is too sweet for my liking)
> 1/4 cup of butter
(I used unsalted butter and will cut down to 2 tablesppons next time)
> 1 recipe pastry for a 9 inch double crust pie
(used store bought)
++++++++++++++++++++++++++++++++++++++++++++++++++
(adapted and tweaked by moi)
* Mix flour, sugar in a small container
* Cut cold butter into small pieces
* Place one crust in the bottom of a 9 inch pie plate. Line the shell with some sliced peaches. Sprinkle some of the flour mixture and some butter on top of the peaches, then put more peaches. Continue layering until both the peaches, flour mixtures and butter are gone.
*Top with another pie crust and cut a few slits for the pie to vent (too lazy to make lattice).
*Brush the top crust lightly with egg white.
*Bake at 450 degrees F for 15 mins, then lower to 350 and bake for antoher 20-30 mins or until crust is golden (it only took 15 mins in my oven). Allow pie to cool before slicing. Best when eaten fresh (I cut it to soon because I wanted to eat it badly so it was still runny yet still delish). Per other commentors' suggestion. Let the pie set for 1-2 hours.
I literally busted my diet tonight by eating two slices of this pie. I had a hard time keeping my hands off of this delightful pie, that's for sure. Be sure to grab some peaches before the summer is over and make this. Let me know how you like it if you decide to make one.