It took us two attempts to make it to the Sin City (here's why) and we literally changed our mind (well, mainly mine) three times on hotel choice. I can't even tell you how many hotel reviews I had processed through my brain onTripadvisor prior to this trip. First we were going to stay at the Wynn, then decided on Bellagio and of course that didn't happen, so third time must be a charm! We I picked a fairly new and hip hotel in the Vegas Stripe – Vdara (opened in Dec 2009). Spot on!!!
So what is so special about this hotel that drew us. For one, I wanted to stay at either 4 or 5 star hotel (since we used miles so it didn't really matter). Secondly, Vdara is a casino-free/smoke-free hotel! What!!!!! Really??? Is there such thing in Vegas?!?!? YES, there is! We were quite happy with our choice. After being in Vegas for awhile, you just want to escape from hustle and bustle of Vegas gambling/party mode to an isolated location to unwind..trust me. OMG, every hotel lobby we visited especially on weekend was just insane!! Every place was SUPER crowded, SUPER busy and SUPER hectic to the point I had a headache from seeing huge crowd…EVERYWHERE. On the streets, in the restaurants, in the shops, in the hotels, every major attractions, in elevators, in public restrooms. Really, it is hard to find peace and quiet moment (well for a party pooper, I put myself in a wrong place like Vegas…ha.).
If you are looking for a beautiful hotel with tranquility, relaxation and peace after long day/night of gambling/partying, you can't go wrong with this choice. If I remember correctly, the hotel has 52 floors (or 56) and their spa is supposed to be a selling point. Its location is somewhat hidden from the stripe so you will not spot heavy pedestrian traffic like most hotels where their front doors face main street. However it still is in a good location (next to Aria, The Cosmopolitan and Bellagio), you can access the stripe through the Cosmopolitan hotel if you decide to walk. The moment we walked into a lobby area, we were greeted by this sweet & sensual aroma similar to what you can experience in a high end spa (only in the lobby area). The decoration is tastefully done throughout the hotel with dark colored panels, chic, minimalist & modern design. It is easy on the eyes and simply put you at ease. There are a small cafe (OMG, the scone is freakin delicious) and a small bar on the first floor where you can sip your drink and relax. Don't expect loud music or drunk people at this bar.
After checking in, we got to our room on the 46th floor. We stayed in a Vdara Suite: 811 square feet of space are divided between the bedroom, bathroom, living room and kitchen complete with fridge and cook top (but no utensils in the kitchen!!). The room was just beautiful, a huge window displays a breath taking view of Vegas. In a kitchen, there is a dining table that can seat up to 4 people. Everything just looked clean and divine. The best part, we were surprised at how comfortable the bed felt which is hard to come by at any hotel (but their pillow sucked! Way too soft for my liking) and the hotel was pretty quiet at night too.
I don't really have any negative thing to say about it but if I had to pick that would be 1) a stupid $25 resort fee/night (guess it seems common for many hotels there) 2) in a bathroom, a potty is NOT in a separate room so when one person is using a potty, another person can't take a shower or apply makeup. Overall a great stay and I don't mind staying there again next time.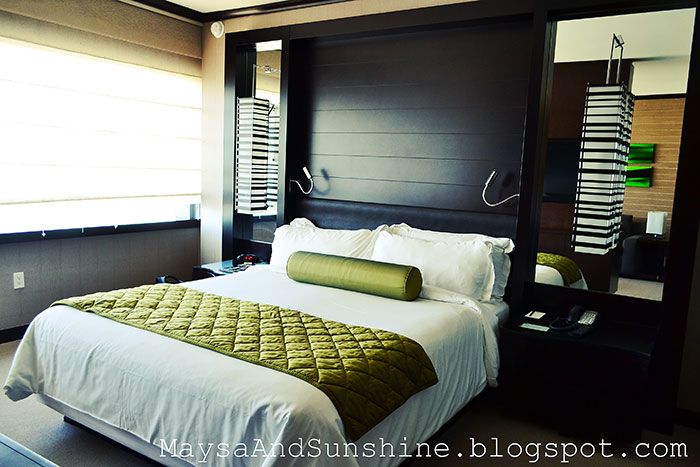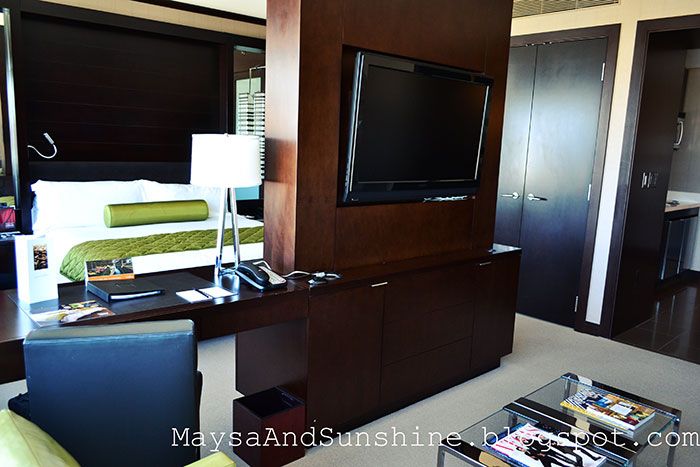 {View from Room#28 on the 46th floor}