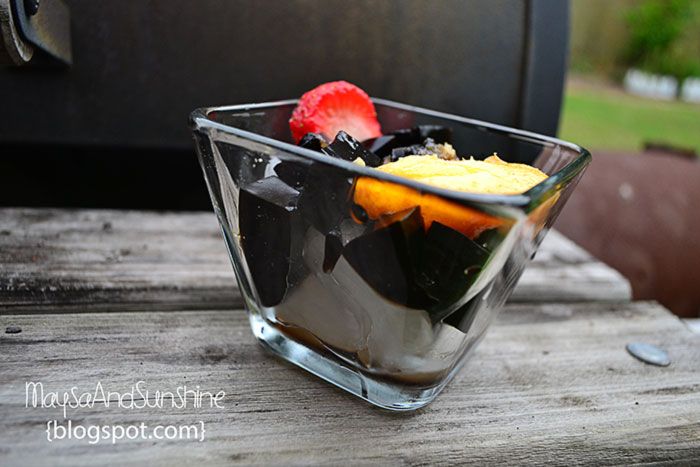 If you were born in Asia, you may be familiar with this black jello that is being consumed during the summer months. As far I as I could remember, I ate this dessert more often than I could count on my hands plus my toe fingers growing up. You could probably imagine my delight when I saw a powdered package of this grass jelly at an Asian grocery store. I couldn't help but picked up (many). I prefer the powdered type so I could make mine from scratch instead of buying ones in a can.
It was so easy to whip this thing up, takes a lot less time than American Jello varieties which needs more time to set in the fridge and the best part you can control the sugar intake. It is a matter of stirring powered grass jelly into water, cook on a stovetop until you get a thick consistency. Pour into the molds to cool. Cut up in small cubes and keep in the refrigerator.
If you have not tried this before, you may be curious to know what it tastes like. My husband's reaction when he first saw me make it was priceless and of course he didn't think it looked appetizing at all. Up to this date, he prefers not to eat while my little daughter always gobbles the thing up. It is almost flavorless really (perhaps a very slight hint of bitterness) but it has cooling property which makes it a great addition to any syrup based desserts or even drinks. In my motherland of Thailand, we often mix it with ice, some brown sugar and jackfruit. I had some strawberries and peaches in the fridge the other day so I thought I threw them into the mix. Yummy..yummy!